A PROFESSIONAL VIDEO CONTROL ROOM FOR DIRECTING
Our video production system allows you to create and film with several cameras.
Dynamic visuals, graphics, titles, and people at duplex distances.
Remote streaming production demand has increased. Businesses around the world are transforming the way they communicate. That's why they use the power of video to engage with their customers, employees, partners, and shareholders. You have to take care of your audience. Whether you are a small business owner, running a startup, or a multinational, we provide corporate video production services to film you with professional quality.
We support the webcasting platform with a broadcast control room to manage the images, audio, and broadcasts.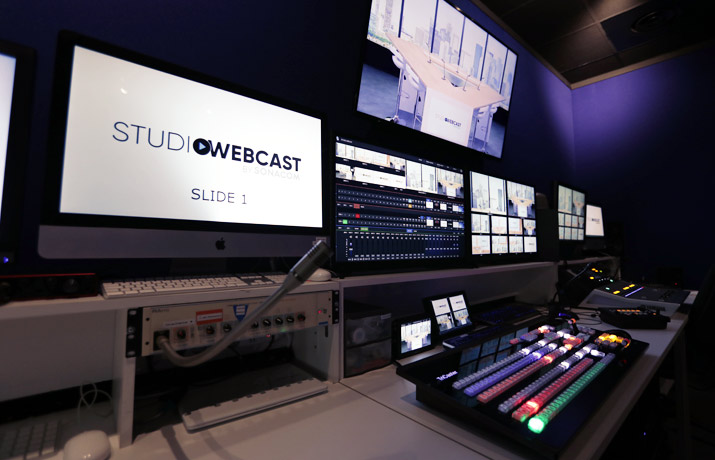 A CREATIVE CONTROL ROOM
Thanks to our digital mixer, we can offer you more dynamic images: split-screen, picture and picture, channel logo, presentation card, integration of your slides, duplex from Zoom, Microsoft Teams, and Google meet.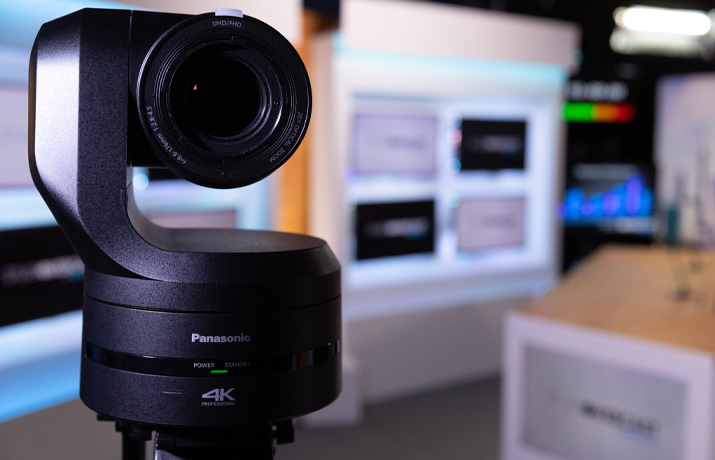 HD IMAGE
Our 4K and HD cameras are the same cameras used by major television channels. In addition, they can change recording values and framing during the entire broadcast because they can be operated from the control room.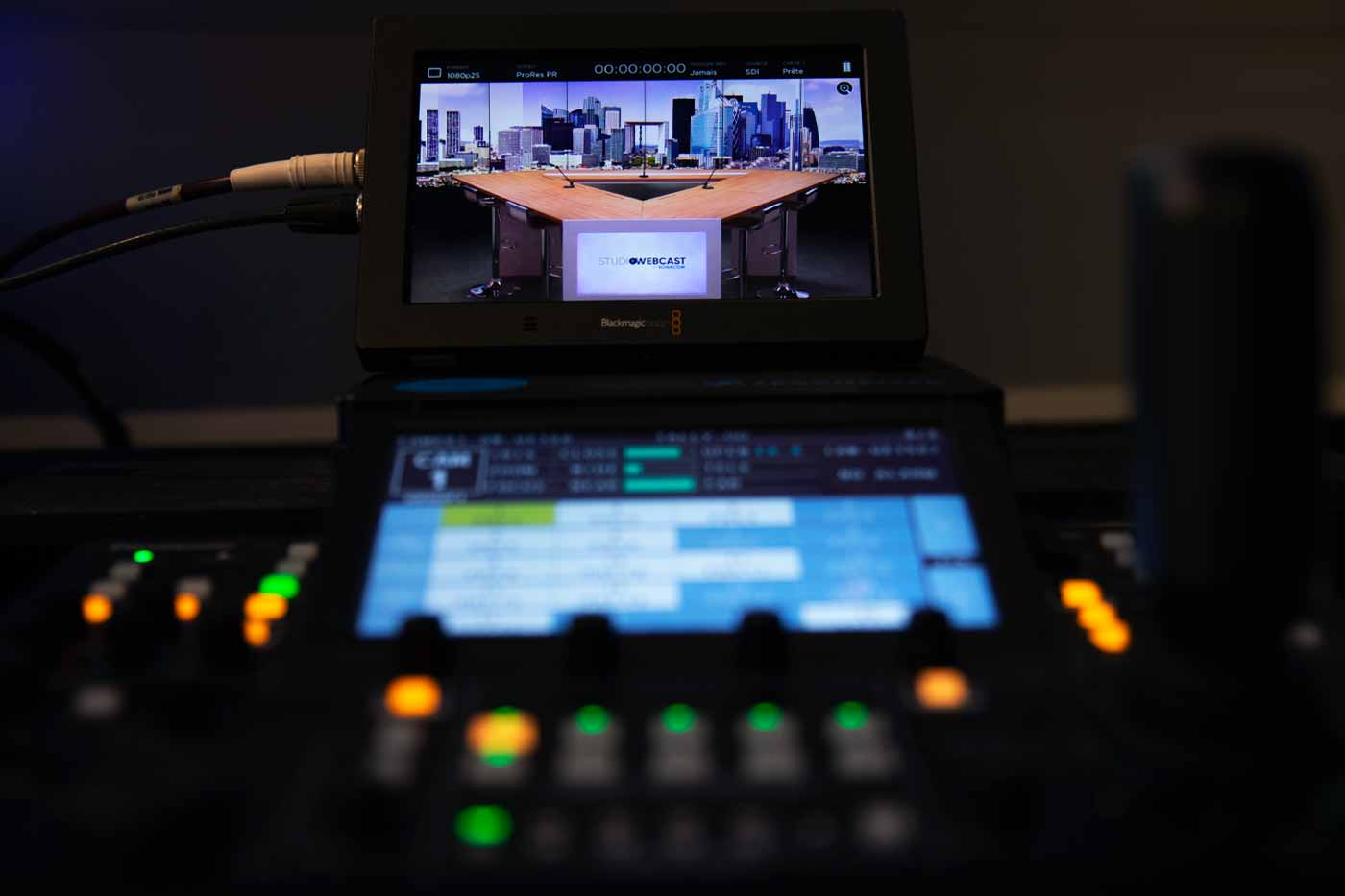 A WALL OF DYNAMIC SCREENS
Thanks to our dynamic screen of 5.50m x 1.80m, your live stream production will benefit from an animated setting. You can choose the images and animations of the screens. With the dynamic video screen, you can broadcast images, videos, and texts. Various configuration options are at your disposal. Our background adapts to your needs and wishes. We can edit the content based on your cue sheet. And you'll see the definition of our wall screen is superior to a wall of LEDs ! With this equipment, your project is guaranteed of the best quality effects.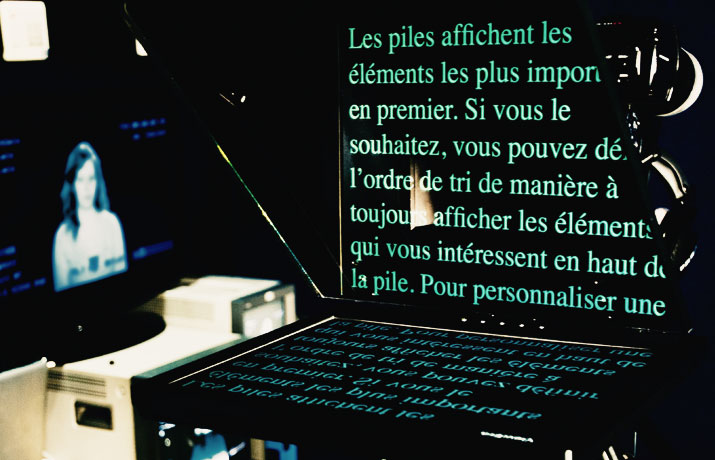 PROMPTIVE/BACKSLIDE
No need to worry about memorizing your lines before recording. Our teleprompter will show your script as you speak, and your slides will be broadcast on the camera axis.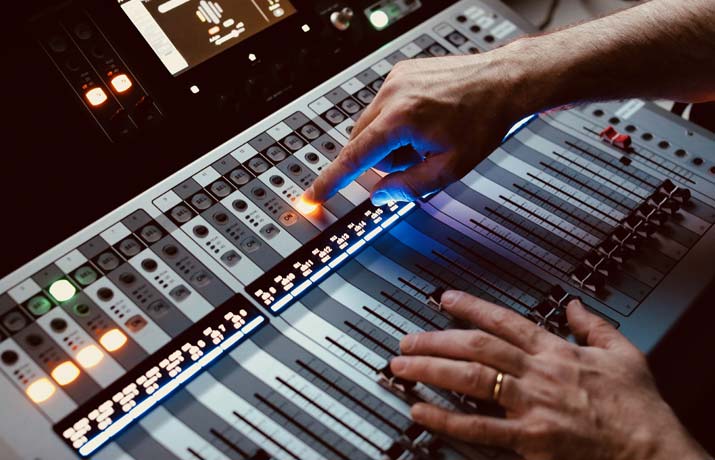 SOUND QUALITY
The stage is fully soundproofed and acoustically treated so that you only have the best sound quality for your production. Our sound engineers also apply sound editing to make your voice sound the best for your content.
STUDIO WEBCAST controls the entire technical optimization as required by your live streaming audience.
We are connected to two separate internet connections from two different providers.
The quality of your live performances is guaranteed by 100 Mb/s symmetrical broadband.
We have a digital mixer, 4K and HD revolver cameras, and sound recording.
The technical success of your live broadcast relies on our facilities and their proper use.
Because your live experience matters to us, we provide constant HD signal for your live stream. The cameras, audio, and the mixer are all of high-definition quality because we strongly believe any broadcast must be recorded and processed with the best microphones and best acoustics. In the studio, we will work on amplifying the weakest sounds and adjusting the loudest ones accordingly. With good sound and visuals, your webinar is sure to be one of the best !
INTERACTIVE MODULES
Innovative communication channels
Get your audience involved !
Live broadcast with the possibility of interactive voting, questions, and answers, instant polls or even quizzes.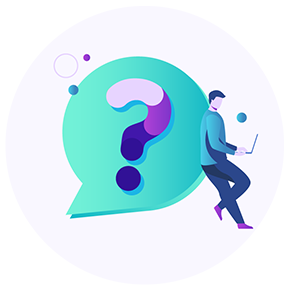 LIVE QUESTIONS
This is the most common engagement strategy used for live streams. Your audience will be in direct contact with you, throughout the streaming production. This Question & Answer module allows you to raise questions, moderate them, broadcast them, and answer them during your live streaming. Studio Webcast is the ideal solution for all your remote live stream productions !
LIVE VOTING
To interact with your audience during the show, you can simply have them vote on your editorial content and see the results directly on the screen before commenting on them.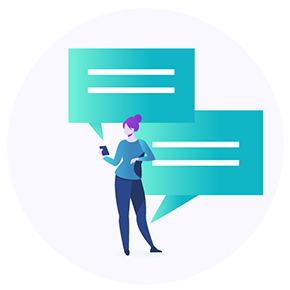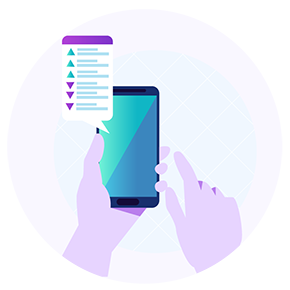 LIVE QUIZ
Sometimes it is necessary to host your live video production in a more playful manner. So, engage with your audience with a real-time quiz where they can answer by SMS, or other virtual games to stimulate your audience.
LIVE STATISTICS
Your show needs to be a success.
We will send you a CSR report after the show with a detailed summary, and an overview of the quantitative results. This way, you will be able to keep improving your overall performance.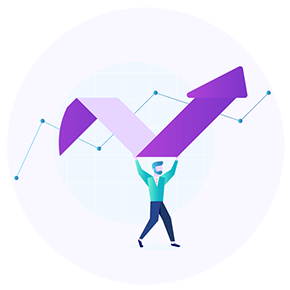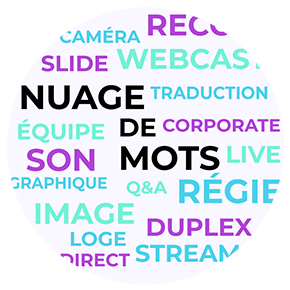 WORD CLOUD
If you want to make a lasting impression, it is important to innovate, surprise, and stand out from the crowd. To see how well you performed, a word cloud will appear at the end of the live stream to summarize the feeling of your audience in the form of a visual.
Encoding and live-streaming solution
We will help you create your live session, secure it or simply retrieve your RTMP URL. We also provide remote webcast productions. We also have a 100 mb/s symmetrical high-speed broadband secure access and ADSL internet. Two phone lines are available in the control room to manage the audio via a telephone hybrid.